Popular Education
As someone who has had the pleasure and honor of working with CHWs, both in the US and internationally, for more than 25 years, I am very excited about the new, expanded launch of the CHW Central website!  Based on my own experience, CHWs in the US have much to learn from CHWs in the developing world, and vice versa.  A website where CHWs can share experiences and organize together across the boundaries of geography and culture can benefit both CHWs and the communities they serve.
In the developing world, CHWs have been recognized as crucial members of the health workforce since at least the 1970s, when the World Health Organization at its Alma Ata Conference declared CHWs to be cornerstones of primary health care.  Of course, the roots of the model go back much further, to the Russian feldshers who cared for the health of civilian and military populations in the 17th century, and the Chinese barefoot doctors, peasants who were trained to extend health care to rural areas after the Chinese revolution.  Church-based CHW programs like the one in which I worked in the 1980s in El Salvador have flourished in Latin America since the 1960s.
In the US, CHWs have played integral roles in communities and the health care system for more than 50 years. The Indian Health Service's Community Health Representative Program, the oldest continuously operating CHW program in the US, was founded in the late 1960s.  During the same period, the Office of Economic Opportunity founded CHW programs in urban areas around the US.  Programs in migrant and seasonal farmworking communities flourished from the late 1980s to the present day.
In the US, recognition for CHWs has been slow in coming.  But thanks to tireless efforts by Community Health Workers and their advocates, that recognition has finally come.  In just the last few years, Community Health Workers have been recognized as a job class by the US Bureau of Labor.  Their potential contributions to the health care system have been highlighted in the Patient Protection and Affordable Care Act.  They have been the subject of legislation in at least six states.  Those six states include my own state of Oregon, where CHWs were prominently included in our own version of health care transformation.  Right now, policies are being debated and created that will affect Community Health Workers for decades – even generations – to come.
At this crucial time of possibility and change, it is essential that US CHWs and their advocates work to maintain the characteristics of the CHW model that have made it so very effective over time and around the world. These characteristics include CHWs' membership in the communities they serve and their ability to play multiple roles, from providing culturally specific health education and information, to sharing informal counseling and social support, to organizing communities to identify and address their own most pressing health issues. A vital resource in this effort is a mechanism for connecting to and learning from and with CHWs in the developing world. So many of the issues CHWs face are the same, whether they are in Dhaka or Detroit, Tucson or Tanzania. My colleagues and I in Oregon look forward with great anticipation to participating in the global CHW movement this website can help to create.
Noelle Wiggins is the founder and Director of the Community Capacitation Center (CCC) of the Multnomah County Health Department (MCHD) in Portland, Oregon. From 1990-1995, Noelle served as the Director of La Familia Sana (The Healthy Family), a Community Health Worker (CHW) program based in Hood River, Or. From 1986-1990, Noelle trained and supported CHWs in a rural, conflictive area of El Salvador. Noelle served as Assoc. Director of the National Community Health Advisor Study and is a Past President of the Oregon Public Health Association. Noelle holds a BA in History from Yale University, an MS in Health and Social Behavior from the Harvard School of Public Health, and an EdD in Curriculum and Instruction from Portland State University.
Reference:
Wiggins, N. & Borbón, I.A. (1998). Core roles and competencies of community health workers. In Final report of the National Community Health Advisor Study. Baltimore, MD: Annie E. Casey Foundation, 15-49.
See more at: http://www.chwcentral.org/blog/noelle-wiggins-shares-her-views-importance-chws#sthash.KJiMYmNI.dpuf
La Palabra es Salud (The Word Is Health)http://mmr.sagepub.com/content/early/2013/11/11/1558689813510785
Combining Mixed Methods and CBPR to Understand the Comparative Effectiveness of Popular and Conventional Education
Noelle Wiggins1
Adele Hughes2
Adriana Rodriguez3
Catherine Potter4
Teresa Rios-Campos1
1Multnomah County Health Department, Portland, OR, USA
2Providence Health and Services, Portland, OR, USA
3Virginia Garcia Memorial Health Center, Beaverton, OR, USA
4Kaiser Permanente, Portland, OR, USA
Noelle Wiggins, Community Capacitation Center, Multnomah County Health Department, 10317 E Burnside St., Portland, OR 97216, USA. Email: noelle.wiggins@multco.us
Abstract
Increasing recognition of the role of social conditions in health has led to calls for methods that can be used to change social conditions. Popular education has demonstrated great promise as a methodology that can be used to address the underlying social and structural determinants of health. To date, most studies of popular education have used qualitative methods and case study designs, making them less compelling for decision makers. La Palabra es Salud (The Word Is Health) compared the relative effectiveness of popular and conventional education using a participatory, quasi-experimental, mixed methods design. Use of this model can enhance our understanding of popular education and raise its profile among researchers and practitioners in multiple disciplines, thus potentially extending its benefits.
Noelle Wiggins, EdD, MSPH
Director, Community Capacitation Center
Multnomah County Health Department
10317 E Burnside St.
Portland, OR 97216
503-988-6250, x26646
noelle.wiggins@multco.us
http://web.multco.us/health/community-capacitation-cente   [ EDIT  ]
Foundations for CHWs Textbook & Training Guide
Foundations for Community Health Workers, 2nd Edition
The second edition of the Foundations for Community Health Workers textbook was published by Jossey-Bass in 2016 and is available at the City College bookstore, on the Jossey-Bass website, at Amazon and other online book vendors.  The second edition includes new chapters and content on topics such as chronic conditions management, healthy living and active living, and working with survivors of trauma. The textbook also includes links to short video role plays and interviews designed to highlight core competencies for CHWs.
Training Guide to Foundations for CHWs
This Training Guide to Foundations for Community Health Workers, Second Edition, was developed by faculty who teach in the Community Health Worker (CHW) Certificate Program at City College of San Francisco (CCSF). The guide represents some of our favorite training activities and assessments, developed in partnership with students, CHW graduates, local employers, and public health leaders. This is meant to be used when teaching or training using the textbook Foundations for Community Health Workers, Second Edition.
Although the guide is based on the curriculum from our college-based CHW Certificate Program, we hope that it will serve as a meaningful resource for training CHWs in any setting. Please feel free to download and share these chapters with your colleagues, citing CCSF as the source.
©October 2015. Tim Berthold, Community Health Worker Certificate Program, City College of San Francisco
The appearance of external hyperlinks does not constitute endorsement by the CHW Section, or guarantee the accuracy, relevance, timeliness or completeness of information contained on a linked website.
___________________________________________________________________________________________________
ASTHO Webinar
Certification and Licensure
March 3, 2016
This interactive call provided an overview of state legislative activity related to certification and training of CHWs, described the Community Health Worker Core Consensus (C3) Project, and discussed the pros and cons to certification through a facilitated panel discussion with three CHW experts.
___________________________________________________________________________________________________
Who make great Community Health Workers?
People who have similar lived experience to the people they are serving
Individuals with compassion, wisdom and a desire to serve
People who love to engage with other people
People with solid ethical values
The natural, trusted leader or "go to person" in that community
Patient experts
What do Community Health Workers need to Know?
Intimate knowledge of the culture and language of the group they are serving
Communication skills: verbal, non verbal and written
Advocacy and outreach skills
Team building and collaboration skills
Motivational Interviewing and behavior change strategies
How to identify resources available in their community and how to access them
Coordination, documentation and reporting skills
Scope of practice: ethical and legal requirements of being a Community Health Worker
When do Community Health Workers learn?
"There is no end to education. It is not that you read a book, pass an examination, and finish with education. The whole of life, from the moment you are born to the moment you die, is a process of learning." – Jiddu Krishnamurti  ( From a SRJC CHW Alumni's facebook page)
Life long learners
Ongoing personal life experience
Collaborative learning within the therapeutic relationship
Interactive peer support learning groups
Community based trainings/workshops/conferences
On the Job Training
Where is the best place to learn how to be a  Community Health Worker?
On the streets and in the frontline trenches of life
In  the community
On the job training
Apprenticeship
Community College
Internship
University
Conferences
Workshops
Online
How do Community Health Workers best learn the skills they need to be effective ?
A deep desire to serve our community drives our desire to learn new skills
Being taught in our home language
Active participatory learning
Peer to peer cohorts
Lived experience
Wiggins, N. (2011). Critical Pedagogy and Popular Education: Towards a Unity of Theory and Practice. Studies in the Education of Adults, 43, 34-49.
Wiggins, N. (2011). Popular Education for Health Promotion and Community Empowerment: A Review of the Literature. Health Promotion International. doi:10.1093/heapro/dar046.
Leveraging Community Health Workers within California's State Innovation Model: Background, Options and Considerations Prepared by Anna C. Davis, MPH; Prepared for the California Health and Human Services Agency; Funded by Blue Shield of California Foundation, ( July 2013; 20 page; 36 references)
Taking Innovations to scale: Community Health Workers, Promotores, and the Triple Aim- A Statewide Assessment of the Roles and Contributions of California's Community Health Workers  Prepared by the California Health Workforce Alliance; Senior Investigator Kevin Barnett, DrPH,MCP, Public Health Institute ( December 2013, 78 pages; 60 References)
Am J Public Health.
 2013 Jul;103(7):e74-82. doi: 10.2105/AJPH.2012.301102. Epub 2013 May 16.
OBJECTIVES:
We sought to provide a systematic review of the determinants of success in scaling up and sustaining community health worker (CHW) programs in low- and middle-income countries (LMICs).
METHODS:
We searched 11 electronic databases for academic literature published through December 2010 (n = 603 articles). Two independent reviewers applied exclusion criteria to identify articles that provided empirical evidence about the scale-up or sustainability of CHW programs in LMICs, then extracted data from each article by using a standardized form. We analyzed the resulting data for determinants and themes through iterated categorization.
RESULTS:
The final sample of articles (n = 19) present data on CHW programs in 16 countries. We identified 23 enabling factors and 15 barriers to scale-up and sustainability, which were grouped into 3 thematic categories: program design and management, community fit, and integration with the broader environment.
CONCLUSIONS:
Scaling up and sustaining CHW programs in LMICs requires:
effective program design and management
including adequate training,
supervision,
motivation,
 funding
acceptability of the program to the communities served
securing support for the program from political leaders and other health care providers.
Text Book: Foundations for Community Health Workers
Contact Authors directly at City College of San Francisco: Alma Avila email: aavila@ccsf.edu  or  Tim Bertold email:  tberthol@ccsf.edu
Vision Y Compromiso- Promotor Institute
Teaching language; Spanish/English; Multi-disciplinary training curricula for and by Promotores; – See more at:
Contact:  Maria Lemus, Executive Director Phone: (213) 613-0630
We believe in the improvement of access and provision of quality bilingual and bicultural health care to Latinos through self-empowerment, educational programs, health advocacy outreach, and development of public policy specifically aimed at Latinos and their families and as critical players in the implementation and workforce development in these areas. – See more at: http://www.visionycompromiso.org/wordpress/about-us/#sthash.pepAPWys.dpuf
City College of San Francisco:Community Health Worker Certificate
Community College;Teaching Language: English; 17 Units
The three connected certificates offered by the Community Health Worker Certificate Program are: The Community Health Worker, Youth Worker, and Post Prison Health Worker Certificates. Each certificate has a different community focus, but share core public health foundation principles, competencies and a social justice perspective.
Contact: Tim Bertold tberthol@ccsf.edu (415) 452-5266                                              Tim Berthold, Coordinator
50 Frida Kahlo Way
Multi-Use Building, room 353
San Francisco, CA 94112                                                                                      Telephone: (415) 452-5266
Email: tberthol@ccsf.edu
Andrew Ciscel,
Associate Coordinator
Link Center, MUB 301  Telephone: (415) 452-5202
Email: aciscel@ccsf.edu
Santa Rosa Junior College: Community Health Worker Certificate
Community College;Teaching language : English; 22 Units; Part time; Three semesters; Units can be used towards an Associate of Science degree
Contact: Janet Fisk,  Program Coordinator 
Phone: (707) 527-4836
E-mail: jfisk@santarosa.edu
The Center for Community Health Development's National CHW Training Center  (TX)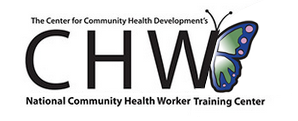 DSHS certified training for CHW and CHW instructors. We offer certification and CEUs online and in-person in both English and Spanish. 979-436-9360 | chw-training@tamhsc.edu
The CCHD'S National CHW Training Center (NCHWTC) is a Texas Department of State Health Services (DSHS) certified Community Health Worker (CHW) Training Center. The Training Center is housed within the Center for Community Health Development (CCHD), part of the Texas A&M University Health Science Center School of Public Health.
Operations Manager: Denise Martinez, CHWI, MPH Instructor: Dinorah Martinez, CHW, CHWI, Instructor: Paula Saldana, CHW, CHWI,   Graduate Assistant: Brenda V. Gonzales
CHW Core Competency Curriculum
Examples:  Important to follow links to institutional websites for most up to date information
Schools Kindergarten Through Grade Twelve (2009 pdf 71 pgs)