Foundations for Community Health Workers, 2nd Edition
Timothy Berthold (Editor)
ISBN: 978-1-119-06081-9
736 pages
May 2016, Jossey-Bass
www.Amazon.com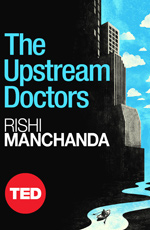 We all think we know what good medicine looks like: smart doctors, stethoscopes, imaging machines, high-tech tests, and the best prescriptions and procedures money can buy. But that picture is vastly incomplete. In this eye-opening book, physician Rishi Manchanda says that our health may depend even more on our social and environmental settings than it does on our most cutting-edge medical care. Manchanda argues that that the future of our health care depends on growing a new generation of health care practitioners. We need doctors who look upstream for the sources of our problems, rather than simply go for quick-hit symptomatic relief. These upstreamists, as he calls them, are doctors and nurses on the frontlines of medicine who see that health (like sickness) is more than a chemical equation that can be balanced with pills and procedures administered within clinic walls. They see that health begins in our everyday lives, in the places where we live, work, eat, and play. If our high-cost, sick-care system is to become a high-value, health care system, the upstreamists will show us the way. 
Community Based Participatory Research
Community Organizing and Community Building for Health: 2nd Edition  Meredith Minkler
 (Editor)  
http://www.amazon.com
CSPNJ Institute for Wellness and Recovery Initiatives would like to share this resource.  Please share widely.  Let them know if it is useful.  (Free downloadable)
 CSPNJ Institute for Wellness and Recovery Initiatives would like to share this resource.  Please share widely.  Let them know if it is useful.  (Free downloadable) Journaling- A Wellness Tool!
http://welltacc.org/attachments/article/248/Journaling%20Workbook%20(for%20website).pdf
(Free downloadable)
Healing the Body Politic: El Salvador's Popular Struggle for Health Rights from Civil War to Neoliberal Peace.  Popular health system administered by 'lay providers in a former war zone'."   By Sandy Smith-Nonini – She is a journalist and an anthropologist.
Principles of Health Navigation: Understanding Roles and Career OptionsCo-published with APHA Press, this is the first text in the new Health Navigationseries. Principles of Health Navigation provides an overview of the content and knowledge competencies expected as part of health navigation education including health services delivery and health insurance, care of the individual, and accessing and analyzing health information competencies. Includes "Navigate 2 Advangate Access".

The Health Navigations Series will be a collection of three textbooks and accompanying digital learning materials designed for health navigator associate degree and certificate programs leading to employment as community health workers, patient navigators, and/or health insurance navigators. This unique series meets the full range of Health Navigation education competencies based on the Community Colleges and Public Health Project Report — a joint initiative between the League for Innovation in the Community College and the Association of Schools and Programs of Public Health.
 MENTAL HEALTH
Glenn C. Gamst – University of La Verne, USA Aghop Der-Karabetian – University of La Verne, USA Richard H. Dana – Regional Research Institute for Human Services, Portland State University
Features a wellspring of seminal research studies critical to understanding the complex issues surrounding mental health care and diversity. Providing a wealth of in-depth research into delivering culturally competent care, this rich anthology examines general issues in multicultural counseling competence training; ethnic minority intervention and treatment research; and sociocultural diversities.
Key Features and Benefits Features carefully selected research articles that are accessible to and practical for mental health practitioners and students Provides critical background research that sprang from rigorous research methods and multivariate statistical processes Opens with the key article that details the development of the ground-breaking 21-item California Brief Multicultural Competence Scale Reviews: Instructor trained in the model and module by California Mental Health Institute. Best model I have been exposed to. Trainers from CIMH are good. Dr Juan Garcia Counseling Special Ed Dept, California State University – Fresno